30

Years of success

TALARC imports quality welding alloys from trusted international manufacturers, reaching the Australian and New Zealand markets via over 100 distributors.

Read more

30

Years of Success

TALARC imports quality welding alloys from trusted international manufacturers, reaching the Australian and New Zealand markets via over 100 distributors.

Read more
Globally Trusted Brands










Latest Catalog
View Our Latest catalogue here. See information on our complete product range and brands we sell.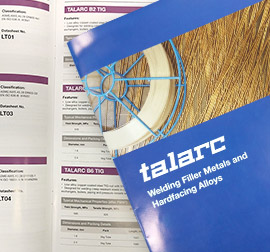 Download
Technical Data

Product Data Sheets
Click here to browse through our available product data sheets.
View Now

Product material Safety Data Sheet (MSDS)
Browse through our Material Safty Data Sheets for all our products with critical information about hazardous chemicals.
View Now
We're Here
to help
Have Questions? Contact us today!
Quality Products
We supply the highest quality welding consumables from trusted international suppliers.
Trusted Brands
We stock the best of the industry.
Reliable
Supply
When you work with us, you share our knowledge and expertise.